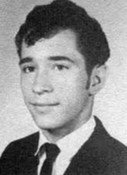 I feel it's my duty to let the class know of the passing of RAMIREZ, Manuel J. from the COVID-19 Virus.

Manuel J. Ramirez went home to the Lord on January 13, 2021 at the age of 70. He was born and raised in Tucson, Arizona.

Manny was preceded in death by his mother, Amalia P. Ramirez and father, Luis F. Ramirez; brothers, Alfredo, Arturo, Mike, Ernesto, Alex, Bobby and his birth mother, Alicia.

Manny was survived by his daughters, Mary Antoniette, Ana Berniece, Cynthia Ann, Teresa, Alicia Christine; son, Manuel Jr.; brother, Peter; sisters, Barbara and Marie; 19 grandchildren, and numerous great-grandchildren.

Manny retired from Duval Mine and as a bus driver from Suntran after 26 years. Then worked at Walmart 5858 for six years. Manny was an avid member of Sunnyside Little League, loved bowling and collecting coins.

Manny was loved by so many people and made family wherever he went. His family is forever grateful for the love, prayers and support we have been given.

Please join us on Friday, January 22, 2021 for a live stream view of services. 9AM Viewing/ Rosary, 10AM Funeral Service/ Graveside Service. Arrangements by FUNERARIA DEL ANGEL SOUTH LAWN. My condlences to the family.
https://www.legacy.com/us/obituaries/tucson/name/manuel-ramirez-obituary?pid=197549682